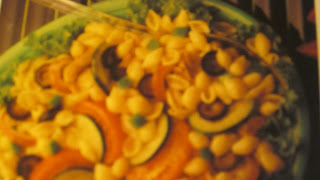 If you are a busy cook who likes to feed your family good homecooked meals, here are some recipes for you.  These dishes are tasty, much healthier than fast food, and they won't take up a lot of your time and energy.  This Seashell-Tuna Salad combines tuna, pasta, and veggies all in one easy dish.  If you don't like tuna, use canned or leftover chicken.  The Fruit Salad with Colorful Marshmallows is a favorite of old and young alike!  The Hoosier Corn Chowder combines two of the favorites of the state where I was born and raised, potatoes and corn both grown in our gardens there.  Many Hoosiers also raise their own pork so this is a true Hoosier dish!
SEASHELL-TUNA SALAD 
2 cups small seashell pasta, cooked according to pkg directions, drained
1 can (7-oz) tuna, drained and flaked
1 large tomato, sliced lengthwise into medium-thin wedges
1 medium cucumber, sliced thin
1 small can sliced ripe olives
1/2 small green bell pepper, diced 1/4 cup red onion, sliced then large diced
1 tsp Italian seasoning
1/2 cup viniagrette of your choice
In a large mixing bowl, add the tuna, cucumber, olives, bell pepper, onion, seasoning, and viniagrette to drained pasta; toss to coat pasta.  Top with the tomato wedges.  Refrigerate until serving time.  Toss gently before serving if refrigerated very long.
Yield: approximately 6 to 8 servings
Variation:  Tuna may be replaced with canned or leftover chicken.  
FRUIT SALAD WITH COLORFUL MARSHMALLOWS  
2 red apples
2 firm bananas
1 small can mandarin oranges, drained
1 large can fruit cocktail, drained and juice saved
12 maraschino cherries, cut in half
1 cup coarsely chopped pecans
2 cups miniature colored marshmallows
Wash, core, and cut apples into bite-size pieces.  Stir into the reserved fruit cocktail juice.
Peel bananas and cut into bite-size slices.
Combine the apples that have been drained, bananas, and fruit cocktail.  Add the cherries, nuts, and marshmallows.  Stir gently to combine well.   
Chill, if desired.
Yield: 2 quarts.  
HOOSIER CORN CHOWDER WITH HAM
1 medium onion, diced
1/4 cup + butter
1/4 cup all-purpose flour
1 cup diced cooked potatoes
1 cup diced cooked ham
1 (1 lb) bag frozen corn
2 cans (15.5 oz) cans creamed corn
1 can (10.5 oz) cream of mushroom soup
3 cups whole milk
3/4 tsp salt
freshly ground black pepper to taste
fresh parsley for garnish, if desired
Melt the 1/4 cup butter in a stockpot; add onion and saute until tender, stirring and watching carefully to keep from browning.  Add the flour and stir until smooth.  Add the potatoes, ham, frozen corn, creamed corn, mushroom soup, milk, salt, and pepper to the pot, stirring until combined.  Heat the chower to a boil.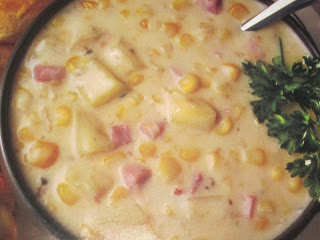 To serve, place a pat of butter, if desired, in the bottom of each bowl for serving.    Garnish with the parsley, if desired, and serve hot.
Enjoy!  
Comments
comments